Sheet Metal Rolling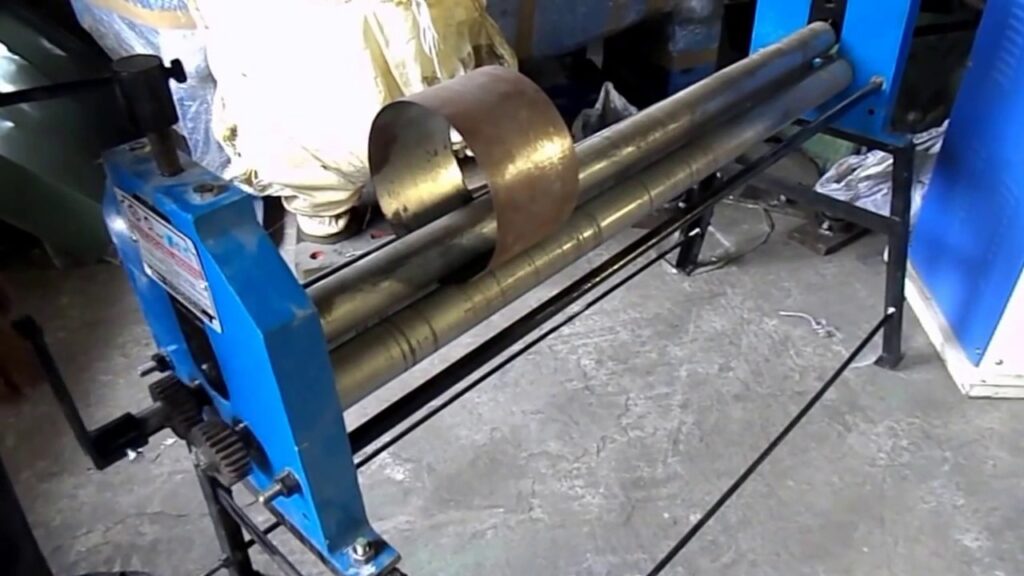 If you're new to the industry, you might have a bit of an idea of what sheet metal is. Otherwise, sheet metal, from its term, is metal that has been processed to be thin sheets that have the uniform thickness from one end to another.
It's a metal formed by manufacturers for a wide range of uses – it can be used as a whole, it can be transformed into a different component, tool, or material, or it can be divided into different pieces having a specific set of uses.
How Sheet Metal is Made
Since it's considered as the basis of all manufacturing, engineering, and some of the construction we know of today, sheet metal is everywhere. The tiny knob and bolt you see? That's actually formed from a metal sheet and it's been shaped accordingly.
Sheet metal is made through the process called sheet metal rolling – and it's quite explanatory. Sheet metal rolling is the process wherein a piece of metal is placed on one or more pairs of rollers, reducing it to the thickness and the width that is the most appropriate for the manufacturer.
Thus, sheet metal rolling is the process of creating, refining, enhancing, and developing sheet metals to be used by manufacturers to provide different companies, manufacturers, and other types of industries the type of rolled or flat sheet metal they need.
Hot Rolling or Cold Rolling
Whether you need a high temperature or a low temperature in rolling, you can depend on us here at Ohio Contract Manufacturing Specialists. We're the company that can make wonders for other business industries – whether you're in the automotive sector, the aerospace sector, the industrial sector – and even the same contract manufacturing sector.
You want hot rolled steel if you're aiming for durability and resistance. Hot steel is used for several industries like railroad tracks, construction, and other industries that feel the need to have a more durable and less fancy and straightened bar.
On the other hand, cold rolling is what you would want if you need a high-quality, straight, and good surface conditioned steel.
We Start Strong
Sheet metal rolling is one of the first few phrases in metal fabrication as it creates the sheet metal that is to be used to create the component or the product. Ohio Contract Manufacturing Specialists is the contract manufacturing company that you'll find to be the most efficient and the most effective out of all the options out in the market.
Some of the benefits and the factors on why clients continue to choose and work with us include:
Flexibility – we can roll aluminum steel, stainless steel, and mild steel and achieve thickness between 2mm to 6mm
We can cut, roll, weld, and press your metal and your steel in your desired shape without incurring any type of problem
We're a company that you can count on if you need urgent help and assistance – we'll be where you need us to be on time!
All of our laborers are equipped with the right amount of knowledge, skill, and expertise – you can count on them to help you in producing metal sheets as well as other components, parts, and equipment
We have the best and the highest grade of materials and equipment
Want Flexibility? Work With Us!
If one of the primary attributes you're looking for is flexibility, then there's no doubt that it should be us here at Ohio Contract Manufacturing Specialists you should work for. We offer a wide range of services from sheet metal bending, press brake bending, sheet metal rolling, and so on.
The versatility of the services we offer is what makes us the most susceptible contract manufacturer to help businesses in a wide variety of industries. On a regular note, we can accommodate a high mix, low volume (HMLV) manufacturing, to high volume manufacturing.
We have a diverse range of sheet metal rollers that we use if you need help in terms of creating sheet metal parts for your business – and whether you're in the manufacturing, the industrial, the automotive, and even the construction and aerospace industry, you can count on us!
Technically speaking, we here at Ohio Contract Manufacturing Specialists can offer a wide and vast selection of sheet metal parts that you can specify yourselves on how you would be using it for your business.
What Can We Roll?
Sheet metal rolling does not just produce a standard and a generic piece of rolled metal. As a matter of fact, we, as a company, are able to accommodate a wide range of sheet metals. You can count on us to help you roll and produce:
Metal Piping
Stacks
Metal Cylinders and Cylinder Segments
Concentric and Eccentric Cones
You can count on us to help you roll a wide range of metal and alloy materials – we don't make exemptions. So long as our sheet metal rollers can work with it, we'll accept it!
We're the Best!
Out in the entire industry, it's us who clients from various industries can trust. The metal fabrication process that we do is complete and we can therefore give and provide all clients in certain industries the types of components, materials, and projects they need.
With the wide spectrum of sheet metal rollers we have, we can help you and your business achieve the metal equipment, projects, materials, and components you need.
Are you ready to receive the best and the highest quality of metal fabrication? Do you want to maximize and optimize the output and the components that you receive – leading to a better chance at sales and a better position against your competition?
You can always trust and work with us here at Ohio Contract Manufacturing Specialists if you are yearning for high-quality output. So if in case you need a fast turnaround for sheet metal rollers, you can work with us! We're just a call, an email, or a message away!
Get your quote from us – just give us the information we need to make it!
Unlike other contract manufacturers that focus on just one specific type of service, we are a company skilled and experienced to perform a large scale of services. Our focus and attention to detail on your project and task goes above and beyond. We exceed the expectations to all of our clients daily.
Our core offerings and services at Ohio Contract Manufacturing Specialists includes, but is not limited to, the following below:
We service multiple cities throughout the state of Ohio. We provide all the services listed above, and much more in every city throughout Ohio.
If you don't see your city listed or a specific service listed, don't worry. All you have to do is contact us by either giving us a call or filling out our online contact form. Then we'll discover what are some of the top solutions for you, your business, and executing a solid solution.
See our city areas of service: