Press Braking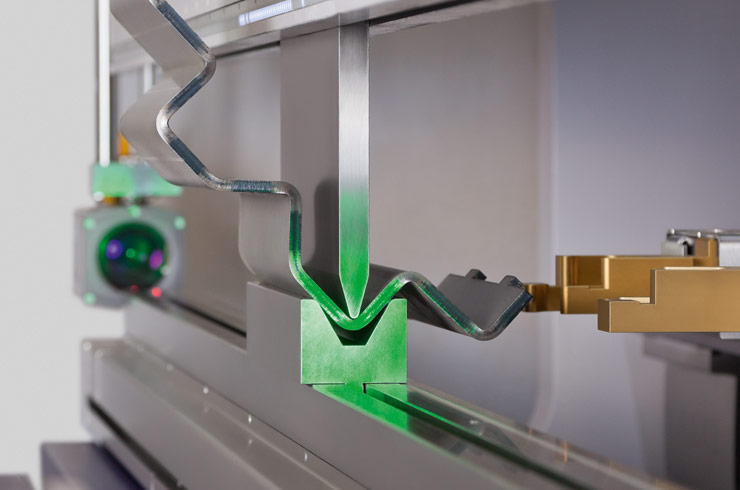 Metal fabrication is a long process and it involves quite a hefty amount of procedures. With these procedures, there are machines, skilled personnel and machinists, and even components involved. One of the most important of these machines is the press brake.
The press brake, or sometimes called the finger brake, is a machine that performs different types of movement in bending and in forming metal sheets and other forms of steel. Manufacturers and metal fabrication companies and experts use different types of press brakes – but why is it called a press brake anyway? Why not a metal sheet bender or former?
Press Brake History
Let's start with the word press – pressing is the term used to apply pressure on a particular surface or area. Then, in the late 14th century, "press" became a machine utilized to press and squeeze clothes, as well as other plants like olives and fruits like grapes.
From this term, the word press has evolved to be a machine or a device that applies force through squeezing.
In around the 15th century, the term "brake" was defined to be an instrument or a machine that is used for either pounding or crushing. From the Old English definition, the word brake was left and it was soon derived to "break" which means to divide objects in a violent way or to destroy.
Since then, fabricators and manufacturing companies have been using press brakes as a part of the manufacturing and the creating process.
Many, if not all manufacturing companies and metal fabricators use press brakes to help mold, shape, and form metal. We here at Ohio Contract Manufacturing Specialists are one of those companies – and we are one company that can help you drastically and greatly with the products and the materials that you need.
The Importance of Press Braking
The essence of press braking lies with the product, component, material, or equipment that you want to manufacture. For instance, if you are looking for frame-like components that would be used as an outline for a vehicle, you need to decide on the shape and the form your product would have.
Without press braking, metal sheets, as well as alloys would not be formed and shaped in the ways they can. Even if you have strong people working for you, you wouldn't be able to rely on their strength to help you mold and shape the metal – plus, it's going to be a long time before they can complete work.
With press braking, you would be able to:
Produce the materials, components, and equipment you need at a high volume and a fast rate
Save on labor and work fees
Get the form, shape, and the design you want for the metals and steels
Focus on other processes involving metal fabrication
Our Press Braking Processes
The press braking process that we perform here at Ohio Contract Manufacturing Specialists is like no other. We never skip necessary and relevant steps for us to arrive at the best and the highest quality of the materials, components, and equipment you need to be done.
Through the use of advanced equipment and specialized types of machinery, you would not have any problem in terms of producing the parts and the components you need.
We Can Produce Up to 28,000 Parts a Year
Whether you're looking for a component of equipment, a material for your own manufacturing, or the creation of equipment for your industry, you can count on our press braking services to produce the best and the highest quality of materials you need.
We can cater to the needs of a wide range of industries and services, from machinery, factory, manufacturing, automotive – even aerospace, to help you produce the best and the highest quality of materials, components, and equipment you need.
Depending on your need and the availability of resources, you would not have any type of problem working with us – we'll get you what you need, provide the best form, in the fastest time possible.
From the early days of the birth of press braking, we have studied relevant and essential processes and procedures and we invested in the knowledge, skill, and expertise needed to perform such strenuous and complicated tasks.
Our Mission
Our mission is to provide our clients, in whatever industry, the highest quality of metal and steel fabrication they need whether they'll need it for commercial, industrial, and even structural purposes.
As your complete-package contract manufacturer, our mission goes beyond successful press braking procedures. Our mind is on the goal of our clients and we are always on the hunt for the best ways on how we'll be able to support them.
With the help of our highly-skilled professionals and machinists, we are able to perform at our best and at our highest, giving you what other manufacturers are not capable of giving.
Cost-Effectiveness
We here at Ohio Contract Manufacturing Specialists are focused to provide not only the best, but also the neatest, the most marketable, and the most aesthetic products for your business. Even if that's the case, you can be sure that our procedures, processes, and methodologies are all cost-effective.
Our team will work with you in finding the best, the most reasonable, and the most cost-effective materials and components, procedures, and even distribution.
We are your partner, not just in the creation and the finishing of all your products, but also in terms of finding the right materials, preparing for the right costs, and even the finalization and the distribution of all that you offer.
Ohio Contract Manufacturing Specialists is a company that you can truly be confident with. We've helped out tons of companies in different industries and not once did we fail them in giving them what they need.
Are you ready to get the best and the most efficient contract manufacturing services you can find in the market? Contact us here at Ohio Contract Manufacturing Specialists now and we will show you what it means to receive robust quality services!
Unlike other contract manufacturers that focus on just one specific type of service, we are a company skilled and experienced to perform a large scale of services. Our focus and attention to detail on your project and task goes above and beyond. We exceed the expectations to all of our clients daily.
Our core offerings and services at Ohio Contract Manufacturing Specialists includes, but is not limited to, the following below:
We service multiple cities throughout the state of Ohio. We provide all the services listed above, and much more in every city throughout Ohio.
If you don't see your city listed or a specific service listed, don't worry. All you have to do is contact us by either giving us a call or filling out our online contact form. Then we'll discover what are some of the top solutions for you, your business, and executing a solid solution.
See our city areas of service: