Metal Fabrication and Engineering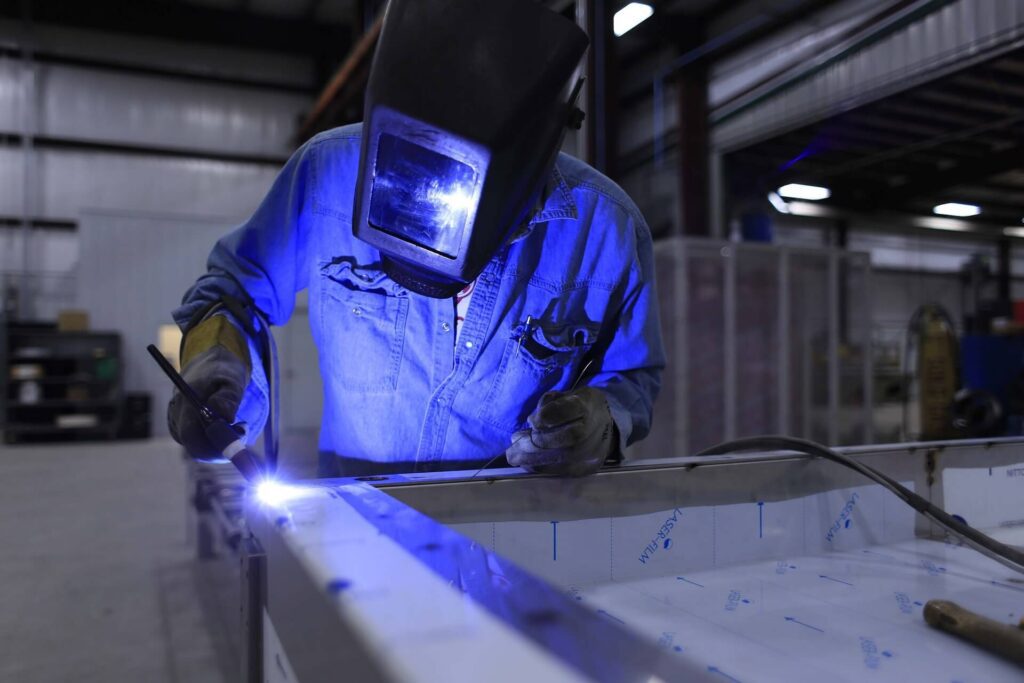 Have you ever wondered how tools, equipment, and different products are made in bulk? Did you ever imagine and think about how they were made in a fast and in an abrupt manner? Metal fabrication is a process that involves the procurement and the creation of certain metal parts and tools.
Metal fabrication, simply, is the process of manufacturing and creating processes that create shape, and produce different products made out of steel and metal.
We here at Ohio Contract Manufacturing Specialists are the company you can count on in terms of metal fabrication and engineering. Whatever type of metallic product you need, we're sure that we'll be able to help you with it.
The Usual Products Metal Fabrication Produces
What do you think are the usual products and equipment that the metal fabrication process produces? Some of the most common examples of products made from this process include:
Enclosures and Brackets
Hand Tools
Cans
Bolts and Nuts
Screws and Screwdrivers
Metallic Pipes and Fittings
Car Parts and Bodies
Equipment Attachments and Add-ons
MRI Equipment
Ultrasound Equipment
And many more
Our company is the one company you can lean on if you want mass production with the highest quality – and we can give you the guarantee that it's all going to be what you ever needed.
Our Fabrication Engineers
A fabrication engineer is in charge of leading the construction, designing, the implementation, as well as the enhancement and improvement of certain manufacturing systems and processes. Technically, they're in charge of optimizing and maximizing the metal fabrication processes, procedures, and methods.
Our engineers will make sure that everything is set in place – from the laser metal cutters, the design, to the welding, and the finishing/polishing of your product or output. The vision that our fabrication engineers have is to make sure that:
Every step and phase in the metal fabrication process is maximized
Accuracy and precision are seen and observed even in the smallest detail
The final product would be what you intended to be
The materials to be used in the procedure would be everything that's needed
Metal Fabrication Types We Do
More often than not, several contract manufacturers would focus on just one type out of the three (3) industries of metal fabrication, namely: Commercial, Structural, and Industrial. However, when you work with us, you can bank on us that we'll help you with anything you need.
Commercial fabrication is the category or the type in which the final output is a commercial product – this is the category in which home and handmade tools fall under. They're the goods that are specifically designed to be bought and purchased by consumers.
Structural fabrication, on the other hand, is the metalwork that is completed and finished in order for it to be a part of a bigger and more grand building process. Usually, they're used to be a part of larger-scale industries such as buildings, skyscrapers, aircraft, etc.
Lastly, industrial fabrication deals with the equipment and the tools that are used by other manufacturing companies. When completed, they are sold to a manufacturing company of the same kind or the different kind – with the goal to perform and to create products for other businesses and companies or for consumers.
Our Flexibility
The metal fabrication and engineering skills that our experts and licensed professionals possess here at Ohio Contract Manufacturing Specialists would be everything you need. You can bank on us as we are flexible – flexible in terms of the workload, the type of work, the industry, and even the output and the products you need.
Our flexibility alone is enough evidence to support the success and the skills we have accomplished in the industry.
Choosing the Manufacturer
We're not going to lie, there might be some other contract manufacturing companies that you need and in order for you to work with the company you really need, you need to look at a couple of factors and considerations before choosing:
Capacity and Capability
What can the company do for you? To what extent are they willing to work with you even after they're done with their main job? There are some, if not a lot of companies that turn their backs when their jobs are finished.
When you work with us, you can count on us to help you even with the littlest of detail; from the design that you need to be accomplished, to the slightest measurements, you need to adjust.
Pricing and Cost
At Ohio Contract Manufacturing Specialists, you can get the smallest and the most reasonable costing for your project. You might think that our labor is high but we can guarantee that we can get you a draft and a plan that would be more cost-effective for your business in the long-run.
We'll help you select the best, the most feasible, and the least expensive materials for your product – we'll even go up to the standard of giving you alternatives!
Work Attitude
All our clients commended us not just because of the product and the output we produced, but also because of the work ethics and the attitude that our professionals have. All our experts on the field are trained and prepared to give the highest form of customer experience and you can count on them to be with you each and every step of the way.
Ohio Contract Manufacturing Specialists is truly a company that you can trust and lean on with everything you need. If you want to work with a company that has a well-structured and a well-engineered metal fabrication procedure and system, going with us is the best option.
Experience outsourcing like you've never before! Work with us and get everything you need in the cheapest and yet most flexible payment plans and prices! Get the products you need within the given timeline and allow us to help you in developing and improving your planned fabrication production!
Unlike other contract manufacturers that focus on just one specific type of service, we are a company skilled and experienced to perform a large scale of services. Our focus and attention to detail on your project and task goes above and beyond. We exceed the expectations to all of our clients daily.
Our core offerings and services at Ohio Contract Manufacturing Specialists includes, but is not limited to, the following below:
We service multiple cities throughout the state of Ohio. We provide all the services listed above, and much more in every city throughout Ohio.
If you don't see your city listed or a specific service listed, don't worry. All you have to do is contact us by either giving us a call or filling out our online contact form. Then we'll discover what are some of the top solutions for you, your business, and executing a solid solution.
See our city areas of service: