Aerospace Welding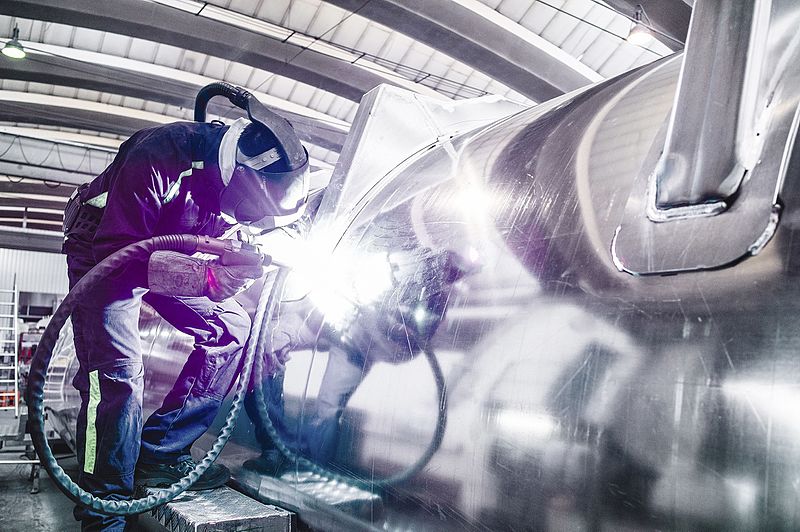 Welding has evolved from being the regular and the ordinary type of welding two pieces of metal strains together, to a whole wide spectrum of types and kinds. One of the newest is aerospace welding and from its term, you already know what it's about.
In case you're not, it's defined to be as simple as the type of welding that is performed to produce, create, and manufacture any part, equipment, or component to be used in an aerospace application. That makes it different from the process of regular welding because it does not only pertain to regular metallic parts and components.
NADCAP Certification
And not all manufacturers are automatically considered as aerospace welding providers. In fact, all manufacturers and metal fabrication companies who wish to have aerospace welding a part of their arsenal need to pass and adhere to the standards set by the National Aerospace and Defense Contractors Accreditation Program or simply NADCAP.
Around the entire state of Ohio, only we here at Ohio Contract Manufacturing Specialists are the company you can trust when it comes to aerospace welding. Not only do we have the compliances and the licenses to do so, but the skill in terms of the entire metal fabrication process.
Aerospace companies have placed their full trust in us, our services, our people, and our processes. Never did we fail any of our clients – not even once and we will be proud to continue to do so. Because of our dedication and commitment to producing high-quality components and materials, our image in the industry is unscathed.
Aerospace Welding at Ohio Contract Manufacturing Specialists
You might be asking several questions as to what type of company we are – just to be clear, we are a contract manufacturing company aimed to help out a wide range of companies in certain industries. From the regular manufacturing companies, to automobile and aerospace – we got you.
Other than that, we also offer a wide range of metal fabrication, forming, and welding processes here at Ohio Contract Manufacturing Specialists. We offer complete and complex choices of aerospace welding skills and capabilities.
However, the most important part of the creation of aerospace parts is the welding because it's what's going to be responsible for keeping the parts and the components of the equipment in place. Therefore, this is what you should look at more often than not.
The types of aerospace welding services we offer include:
MIG Welding – or Gas Metal Arc Welding (GMAW) which uses electric arcs between the workpiece and the electric arcs melting them and cooling them down to join and be fused.
TIG Welding – or also known as Tungsten Inert Gas (TIG) welding utilizes tungsten that is not consumable, generating heat to the surface, melting them, and allowing them to cool to fuse.
Spot Welding – is the type of welding in which we use force, resistance, and heat to conjoin two pieces of sheets together, producing the thickness of the components you need fast and efficiently.
The versatility of Our Services
Our Aerospace welding procedures reach far back out to just producing regular workpieces and tools, raw materials, and aerospace-designed metal sheets, to a wide range of semi-finished equipment parts and components. We have teams of heavily-experienced aerospace welders, as well as aerospace welding machines that can be used in producing the equipment you need.
We indulge all of our products and materials in continuous testing before we set it out in the industry, making sure that all of the parts, components, and equipment are on point – avoiding any type of casualty that can go along with it.
Why Choose Us?
In choosing the right manufacturing company to help you with your components, what factors do you think about? What are the things that sell the services of manufacturers to your liking? Is it the speed and the urgency of their work and delivery? Is it with the quality of the goods and the products you have in the roster?
It could be anything – but when you choose us here at Ohio Contract Manufacturing Specialists, we can give you the assurance that we'll be able to help you with a lot and the top of our priority is the safety and the polishing of all the products.
Quality and efficiency are given – we produce only the best and the most effective because of highly-specialized and technologically-advanced machinery and equipment. The only question is with safety because there's no machine that can give this assurance.
Safety Is Our Priority
Being aerospace welders, it is our duty and responsibility to make sure that the pieces and the components we produce are of the highest quality to ensure the safety and the security of your aerospace vehicle.
Other than welders, we have the best and the highest-rated aerospace engineers and metal fabrication experts who would work hand-in-hand in delivering the safest and the highest quality of product lines and materials you need.
We're the Best You Can Work With
Other manufacturers would focus more on the production of the services, especially with the amount because that's where the money is. When you work with us, we can give you the assurance that all of the parts and components of the aerospace equipment you need will be done and finished in the safest way possible.
Some of the major benefits of working with us include the safety and the security of everything – from the creation of the metallic products, the security of welding all of them in place, down to the distribution, and the integration of it in the entire aerospace and aeronautic structure.
So if you're looking to work with the company who can help you with the safest and the most structured aerospace welding to free you from worries and malfunctions, work with us here at Ohio Contract Manufacturing Specialists and you will never regret your decision of choosing us to be the manufacturer of your products.
Let us always promote safety in all that we do!
Unlike other contract manufacturers that focus on just one specific type of service, we are a company skilled and experienced to perform a large scale of services. Our focus and attention to detail on your project and task goes above and beyond. We exceed the expectations to all of our clients daily.
Our core offerings and services at Ohio Contract Manufacturing Specialists includes, but is not limited to, the following below:
We service multiple cities throughout the state of Ohio. We provide all the services listed above, and much more in every city throughout Ohio.
If you don't see your city listed or a specific service listed, don't worry. All you have to do is contact us by either giving us a call or filling out our online contact form. Then we'll discover what are some of the top solutions for you, your business, and executing a solid solution.
See our city areas of service: